Apple, Google and Microsoft are three very powerful companies. Two of them had big events last week -- Google I/O and Microsoft Build. What I found interesting was that both Google and Microsoft largely were on the same page about focusing on the customer.

Both Google and Microsoft have been making massive advancements with artificial intelligence. Both have increased their efforts to make the world a better place.

Apple, on the other hand, is still using the lock-in model to keep customers from abandoning it, and increasingly appears more intent on increasing margins than on satisfying its unusually loyal and valuable customers.

I'll share my views on their strategies and then close with my new favorite browser: Chromium Edge. (Seriously this thing is AWESOME!)
Google and Microsoft
I observed a number of really interesting things from watching the Microsoft Build Keynote and the Google I/O keynotes back to back. One was that while Microsoft CEO Satya Nadella's passion clearly showed, Sergey Brin looked like he was reading the ingredients in a recipe he didn't like. The contrast in energy and interest was stark, even though both men were announcing similarly revolutionary offerings.
While Google was the first to embrace open source, and by a considerable margin, Microsoft has matched it. Both firms now are pretty much on the same page -- not only with regard to an increasing customer focus, but also when it comes to putting their efforts into making the world a better place.
Most People Haven't Tried It Yet. Virtual reality keeps growing in popularity. One study found that only one in three people in the United States have actually tried virtual reality. That means that there is still more room for acceptance among consumers in the country. On a positive note, nearly 90 percent of people were aware of virtual reality, which also means that many people have a basic understanding of the technology, even though they have not yet experienced it in person. The future is bright for the industry.
They have been getting there with different tools, but the concept of building around the customer, while more pronounced at Microsoft than at Google, is very visible at both companies. Google never has seemed to care that much about profit, largely because its revenue source typically is decoupled from the product, and Microsoft historically has been product-focused.
Google's pivot to privacy is largely sourced through government sanctions that likely have scared the hell out of it. Microsoft's is more because its model favors privacy in the first place -- but both firms largely were in lockstep on the importance of their respective efforts.
A Truly Smart Digital Assistant
One of the most interesting parts of both keynotes was that both CEOs placed their digital assistant efforts toward the top of their respective priority lists, and their new feature sets are going to be remarkably close. Both Google's and Microsoft's assistant efforts appear better, in terms of performance, than Apple's Siri or Amazon's Alexa. However, Siri is better known, and Alexa is more widely used.
Both companies announced aggressive steps to fix that, with assistants that can hold conversations and perform multiple linked tasks far more like what a human assistant might be able to accomplish.
Both showcased advanced translation and speech-to-text capabilities, and both highlighted impressive performance potential. One interesting, perhaps ironic, difference was that Google was stronger with its disconnected device capability, which I would have expected to be more in Microsoft's purview. However Microsoft's overall cloud message, with a performance gaming component, was far stronger. It felt at times as though each company thought it was the other.
Hardware and Collaboration
Other areas where the companies diverged were on collaboration and hardware. Microsoft presented some impressive improvements to its Teams product, which now can loop in remote workers into a rendered video conferencing environment using Spatial, a revolutionary avatar-based telepresence technology. It gave me hope that much of my travel soon may go away. It offered everything from real-time translations to the ability to turn presenters translucent so you could see what was behind them. Really revolutionary stuff.
Google was more about the hardware -- from its updated Nest Hub and Next Hub Max to its new aggressively priced, potentially iPhone-killing, Pixel 3a phone. It had me thinking it was time to hide my wallet again. Its new phone actually comes in purple, which got me thinking that maybe, just maybe, I could get my wife off her horrid iPhone (purple is her favorite color and our anniversary is coming up).
The Pixel 3a has three iPhone-killing features: a battery that uses machine learning to produce up to 30 hours of battery life (15 minutes on the charger provides seven hours of use); a camera with super high-resolution zoom and market-leading night mode; and the new Google assistant that makes Siri look so last decade. The digital well being improvements also are impressive, with new phone features that could increase productivity by 90 percent and reduce nighttime usage (improving sleep) by 27 percent.
Virtual reality has captured to the interest of Baby Boomers, Generation Z and Millennials.
Making a Better World
Surveys of millennials indicate they want to work with firms that will go out of their way to make a better world. I've covered efforts by Dell, Cisco and IBM in the past, and this clearly has become an industry trend.
Microsoft's aims to enable people to make a difference in the world by giving them the tools they need to execute changes. In its keynote, the theme was on how to build trust, with a significant focus on election accuracy worldwide. Ensuring this process will allow for stronger citizen-driven change short of revolution -- something we may appreciate even here in the U.S. shortly.
Google's presentation along these lines was more about what Google could do, suggesting its effort is partially in response to its eroding brand and concerns that the company was becoming evil.
It highlighted impressive tools that could give a voice to those who can't speak. It was a pretty amazing demo, because once trained using machine learning, the system could differentiate between a stroke victim otherwise unintelligible sounds.
Google also highlighted a huge advancement in early warnings of flooding using satellite imaging and heavy simulation.
Both firms' approaches were accretive. In other words, it wasn't one or the other but one plus the other that got you the best results.
Microsoft Azure
For some screwy reason, the cloud was all Microsoft and Azure. Google seemed more about edge computing. Microsoft pointed to its expanded to 54 regions and whopping worldwide compliance certificates -- the most of any company.
I found out that it has been working with each government far more than any of its competitors, not only to comply, but also to change compliance requirements so that they actually make sense, improving the environment for all vendors.

One of the most interesting implementations came from AT&T, which has been using Azure for drone tracking and to eliminate the risk drones pose to commercial aircraft. Starbucks has been using Azure for coffee quality assurance (a good thing -- I've stopped going to Starbucks because the coffee tastes bad). Microsoft highlighted a blockchain logistics product in conjunction with Starbucks that better assured packaged coffee quality.
AI and Mixed Reality
On AI, both Google and Microsoft had interesting stories to tell. Google highlighted a huge effort to eliminate bias in its AI models, something that Dell spotlighted a week earlier and IBM emphasized at Think. Microsoft was more about having an open AI system that could be modified by the customer to create bots that could target needs uniquely as a result of learning about the user.
To your great surprise, the concept of Head Mounted Display is also not a new idea. The first head-mounted display was developed around 1960's. the Telesphere mask was the first example of a head-mounted display, which provided 3D stereoscopic and wide vision with sound.
Neither firm had any real virtual reality content, but they were pretty aggressive with augmented reality. Microsoft again highlighted its HoloLens II, which is being used widely in industry. It also highlighted a massive increase in developer tools, making deploying the thing far easier.
Google seemed to be backing off AR hardware altogether, but it showed strong progress with its AR (Google Lens) efforts instead, which did some pretty amazing things with regard to translating paper documents like menus.
Gaming Advances
Microsoft largely stood alone with its new huge gaming in the cloud effort. The promise is any game you want on any device with state saved. In theory, you could start a game on your PC and then finish it on a phone or tablet.
This kind of demands head-mounted displays, because taking a game that is meant to be played on a monitor and shrinking it down to a tablet or phone would get a ton more interesting if you didn't have to reduce the screen size. Ironically, Google kind of addressed this with its foldable phone update.
Apple's Position
Both Microsoft and Google are on what appear to be customer-centric tacks, and both have huge "make the world a better place" efforts under way. Apple is still mostly spending its money on buying back stock (which benefits investors over customers).
Apple just finished the biggest litigation effort I've ever seen focused on screwing Qualcomm just to get US$6 in extra margin, with collateral damage that could have knocked the U.S. out of the 5G race. For some time, it has been outfitting its phones with inferior Intel modems, knowing they were crap but nevertheless promoting them as superior.
Apple's excessive focus has been on margins and valuation. It doesn't appear to care about the health of its suppliers or the quality of their offerings. WWDC will be Apple's chance to fight back , but it really needs to start putting customers and the world far higher on its priority list. Right now, it has fallen way behind both Google and Microsoft in a number of areas.

This is pretty much the same tone-deaf behavior I saw at IBM back in the 1980s, and it almost killed that company. I don't think it will end well in Apple's case either. While Microsoft is talking customer focus and loyalty, and also increasing valuation, Apple has been taking advantage of the most loyal customer group on the planet. This is just painful to watch.
Wrapping Up: Better Competition
It is really cool that both Google and Microsoft are focusing a ton more on customers. I also think it is fascinating that Microsoft is working to make Starbucks much better, while Google's executive needs to drink more coffee. (Sergey Brin really defined "low energy" in his talk.)
The Sci-Fi Prediction of VR – Pygmalion's Spectacles. Stanley G. Weinbaum, a well-known science fiction writer from the 1930s, had the vision of what Virtual Reality is and what it may become, even before the official term was coined. In his 1930s short story Pygmalion's Spectacles, he shares the idea that a wearer of a pair of goggles can experience fictional worlds through holographics, touch, smell and taste. This truly made him a visionary in the field of virtual reality.
Apple, in contrast, seems to be living in the 1900s, when lock-in was king and you could subordinate customers for margins. It just feels like it increasingly has been relying on lock-in and not on building more competitive offerings or giving customers the love they deserve.
Apple has the most loyal customer base in the segment. It really needs to stop abusing them with inferior offerings and maybe do something that will make the world a better place. And I still feel someone should go to jail for the bad faith attempt to put Qualcomm out of business.

I don't know about you, but I am now a long way from just bringing up Internet Explorer and having everything work. Edge has become increasingly difficult to use, and IE has its own legacy issues. A couple of weeks back I tried to enter a video conference, and after trying Edge, IE and Chrome, I found that only Firefox would render the page properly.
Well when my Microsoft contact, Carla Quesenberry, called me a few weeks ago and asked me to try out the alpha copy of Microsoft Edge on Chromium, I was pretty skeptical and put it off. It's an alpha product, how good could it be?
I finally loaded Edge Canary (the code name), and I can answer that question with one word "awesome." When I first loaded and launched it, the load time was blindingly short. It just exploded onto my screen with a lot of my favorites. I've been using it for two weeks, and I made it my default browser this week. Even though it is in alpha, it is better than a lot of the shipping browsers I've ever used.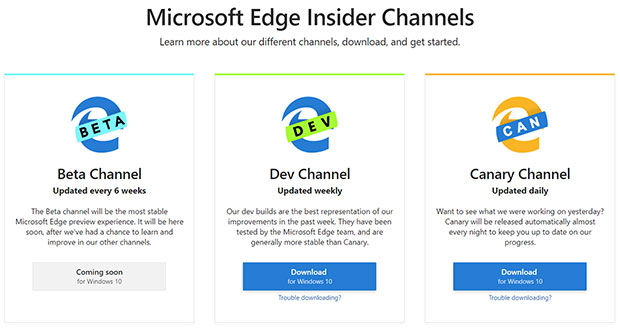 'Canary' - Microsoft Edge on Chromium
- click image to enlarge -
Since it has been my primary, I rarely have to load Chrome and never have to load IE. It is the one browser that runs everything most successfully, and it has a favorites migration capability that is nearly second to none in alpha form. My favorites were all there, though some of the passwords were out of date.
There are coming features that will better allow the creation of comparison charts, just by dragging and dropping. Did I mention, the thing is the fastest browser I've got -- and by a significant margin?
It Enhances The Gaming Experience. It is difficult to talk about virtual reality without discussing the use of video game technology in it. The gaming world has fully embraced virtual reality and all of its elements. There are now some games that are designed specifically for virtual reality. In some of these cases, gaming companies would produce special props that gamers can use along with their virtual reality headset. For some gamers, virtual reality has enhanced their love of playing.
A host of coming features will make this thing an invaluable part of the Office 365 solution -- like the ability to drag and drop items from the browser into Excel to create near instant personal product comparison guides or collections. Because it's been well over a decade since I've been more excited about a browser than pissed at it, Edge with Chromium -- what I call "Chromium Edge" -- is my product of the week. (Maybe Microsoft should rename it the "Awesome Browser.")