Tech Industry Events and Webinars
Find upcoming e-commerce and technology conferences, trade shows, workshops and webinars. Visit ALL EC Events today.
Microsoft CEO Satya Nadella on Monday defended the company's US$479 million contract with the U.S. military -- a commitment that some Microsoft employees strongly opposed.
While pledging to engage with employees and consider Microsoft's role as a corporate citizen, Nadella said the company would not withhold technology from institutions in democracies elected to preserve the freedoms of their citizens. He made the remarks in an exclusive interview with CNN Business at the Mobile World Conference in Barcelona, Spain.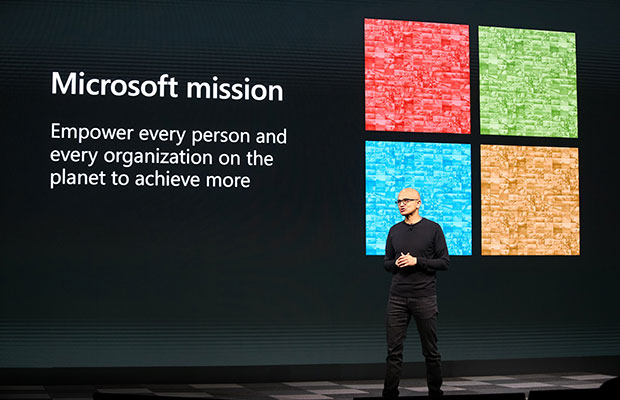 Microsoft CEO Satya Nadella speaks onstage at MWC Barcelona.
Microsoft was awarded the nearly half-million dollar contract last fall for an "Integrated Visual Augmentation System" using HoloLens technology. HoloLens is used in augmented reality glasses that allow viewers to see the real world overlaid with live information graphics.
The contract calls for more than 100,000 of the systems to be delivered to the military to provide its forces with "increased lethality, mobility and situational awareness" in combat.
The First Computer Virtual and Augmented Reality Headset – The 'Ultimate Display' Concept and the Sword of Damocles. If we could name one person as the father of Virtual and Augmented Reality headsets as we know them today, it would without a doubt be Ivan Sutherland. In the 1960s, he described the concept of the 'Ultimate Display' that would be able to stimulate reality to a point that the viewer would not be able to tell the difference between the virtual and the real world. His concept included a head-mounted display with 3D sound and tactile feedback, a computer that would create and maintain the virtual world through this device and the ability of a user to interact with objects from the virtual world in a realistic manner. Sutherland later created the first VR/AR head-mounted display, which was connected to a computer and not a camera, known as the Sword of Damocles. However, the contraption he made was too heavy for a person to wear comfortably on their head, so the device had to be suspended from the ceiling. Furthermore, the computer generated graphics were too primitive with wireframe rooms and objects.
Some HoloLens headsets already have been delivered to the Israeli military, where they're used to help commanders visualize combat situations and to enable field medics to communicate with physicians, according to CNN.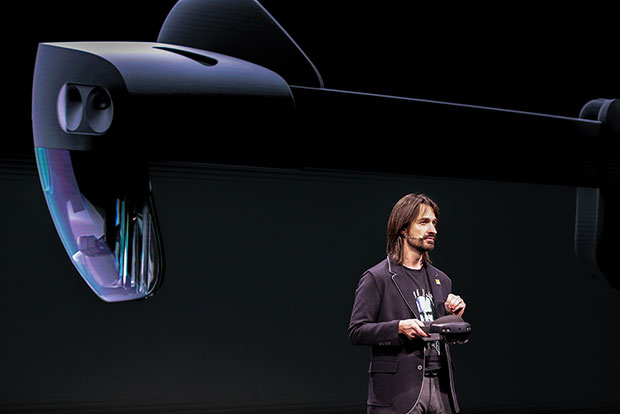 Microsoft Technical Fellow Alex Kipman unveils HoloLens 2 at MWC Barcelona.
Workers 4 Good
Nadella's defense of the military contract came days after a group of Microsoft employees, calling themselves "Workers 4 Good," protested the deal through a letter published on Twitter.
"We are a global coalition of Microsoft workers, and we refuse to create technology for warfare and oppression," the group noted.
While the group acknowledged that Microsoft previously has licensed technology to the military, the company never before crossed the line into weapons development, it maintained.
"With this contract it does. The application of HoloLens within the IVAS system is designed to help people kill," the letter states. "It will be deployed on the battlefield, and works by turning warfare into a simulated 'video game,' further distancing soldiers from the grim states of war and the reality of bloodshed."
It's not all going to be plastic. Today, virtually everyone loves everything about VR, which accounts for the magnitude of its success. But the technology continues to evolve at a breakneck speed. One focus of technological advances related to VR is the engineering and design of the headset. Expectedly, there are ultra high-tech and complicatedly designed headsets out there. But some tech wizards have taken it one step further, thereby making it way more accessible to everyone. Now, there are tutorials about making VR headsets out of pieces of cardboard. Not only has this opened a plethora of possibilities for VR, it has gotten people to think in creative ways to upsize their experiences.
Weapon or Not?
Not everyone agrees that the IVAS contract is for a weapons system.
"From what is known of the contract, there is nothing inherently 'weaponized' about the intended HoloLens usage, although tangentially it could be leveraged in that way," said Eric Abbruzzese, senior analyst with ABI Research , a technology advisory company headquartered in Oyster Bay, New York.
"The initial publicly available info framing it from a soldier-safety standpoint goes a long way to distancing the contract from a weapons related area," he told TechNewsWorld.
The contract isn't as far removed from Microsoft's current business as the W4G group has contended, Abbruzzese also noted.
"It's too early to say how exactly the company's plans may shift going forward, but for this specific project I don't believe it is far from existing engagements," he said.
The U.S. military has been using Xbox controllers for some of their systems for years, and it also uses Windows-based systems, Abbruzzese pointed out.
"For Windows, there can be a comfortable distance from weaponry, but HoloLens may veer too close," he said.
While there isn't anything confirmed to suggest a weaponized HoloLens system, considering the vague public details about the contract, it could be expanded in that direction, Abbruzzese said.
Smartphones at the forefront of Virtual Reality. It's a worldwide reality: smartphones dominate everyone's every move. It comes as no surprise that taking the smartphone experience to the next level means stepping up the game in VR. With all the VR content users can sink their claws into, all one needs is the perfect device to embrace the wealth of entertainment that awaits him or her.
Listening but Not Backing Down
While Nadella pledged to listen to employees, it seems doubtful Microsoft will be backing out of the HoloLens deal.
"The group of protesting employees is small, at least at present," Abbruzzese observed. "The only way a notable impact happens is when there's a much larger and more significant employee response, such as a strike or protest on a large scale."
The composition of the protest groups matters, too, noted Charles King, principal analyst at Pund-IT , a technology advisory firm in Hayward, California.
"Frankly, the opinions of key executives and senior engineers are likely to outweigh clerical staff and knowledge workers," he told TechNewsWorld.
Employee activism can be somewhat dangerous for a high-tech company, though, according to Rob Enderle, principal analyst at the Enderle Group , an advisory services firm in Bend, Oregon.
"Policy should typically be set at the top of the company, not at the bottom," he told TechNewsWorld.
The employees also may be unschooled about today's high-tech business landscape.
"There is no a single U.S. tech company that doesn't sell into the military or aerospace in one form or another, especially when you get down to software and hardware," said Jim McGregor, principal analyst in the Phoenix, Arizona, offices of Tirias Research , a high-tech research and advisory firm.
"Any new technology is likely to be used by governments," he told TechNewsWorld. "It's natural."
The year 1990's saw huge developments in the virtual reality technology with the rise of arcade games. The Virtuality Group was the cutting edge of virtual reality, and launched a wide variety of arcade games and machines that let the players immerse themselves into amazing 3D visual experiences.
King found some irony in the protest.
"I have to say there's more than a little irony when complaints are coming from employees of a firm that has long made tens of millions of dollars annually from military simulation games," he said.
"Not to put too fine a point on it, but it's worth asking who was complaining as games like Halo , Gears of War and Sniper Fury were rising to prominence?" King asked.
Winning a Better Process The protesting Microsoft employees may not be able to reverse the IVAS agreement, but they may change how their company looks at these kinds of agreements in the future.
"The biggest change that could result from this is a more objective and transparent approach to military contracts that could veer into aggressive/weaponized usage," Abbruzzese said.
"Engaging with employees before the contract is signed and allowing employees a choice in their involvement going forward may become a requirement if protests continue to grow," he continued. "We saw an initial promise for this already, so a baked-in option for employees may be coming."
Even if Microsoft changes how it handles military contracts, those contracts will remain attractive to tech companies.
It Makes Playing Sports Thrilling. By now you know that virtual reality can make the sports viewing experience better. As it turns out, virtual reality can make playing sports a better experience, too. There are already simulations on the market that put you in the middle of a sporting contest to see how well you do. There are some additional props required, such as a machine for driving a bobsled down a mountain. It is a cool and one of a kind experience.
"Working with military agencies and entities is something most IT vendors do willingly or even enthusiastically due to the size and length of contractual agreements," King said.
"If the aim of those efforts is improving the overall efficiency or effectiveness of a fighting organization," he continued, "trying to parse the morality of a weapons system contract over deploying tens of thousands of desktop PCs and workstations becomes a rhetorical exercise."